Joshua Records Presents A Documentary by Theresa Demarest
Running Time: 74 min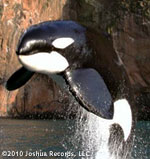 TAGLINE:
The millions of Keiko fans around the world finally learn the truth about what really happened when the "Free Willy" star became the first and only captive orca to be released back into the wild.
3-LINE SYNOPSIS:
Nowhere in recent history has a captive mammal garnered go much attention as Keiko, the orca star of the 1993 hit film, "Free Willy." The film's success, partnered with growing public interest in animals held in captivity, launched a children's crusade that called for Keiko's release into the wild. The result: a multimillion dollar project that spanned four countries, weathered endless controversy that continues to this day. Through first-hand accounts by the marine mammal experts charged with his care, "Keiko The Untold Story" follows Keiko, his life, his legacy of hope, and the untold story of his extraordinary years in Iceland and Norway.
MEDIUM SYNOPSIS:
Torn from his family at the tender age of two, Keiko spent 14 years in captivity as a performing tourist attraction before Hollywood discovered him for the title role in the 1993
blockbuster movie, "Free Willy." When his millions of new fans around the globe, most of them children, realized that Keiko was not free like his on screen character, a crusade was launched to save him. The decision was ultimately made to return Keiko to his native waters off Iceland. He first spent two years in Oregon regaining his health. Keiko was finally airlifted to Iceland in fall 1998, becoming the first and only orca in captivity to make it back to the wild.
Yet over a decade later, the question of whether or not the mission succeeded continues to frame the debate regarding the fate of the other 42 orcas still held in captivity around the world. "Keiko The Untold Story" solves the mystery of what really happened during the last five years in the life of this international icon.
Four years in the making, this compelling documentary by filmmaker Theresa Demarest presents never before seen footage of Keiko in the wild, along with exclusive accounts of his day-to-day existence by Keiko's last two caretakers, Colin Baird and Thorbjorg (Tobba) Valdis Kristjansdottir. The film provides insight into the unique culture of orcas, and what the impact of being taken from his pod had on Keiko's survival instincts.
---
'This was a failed and flawed experiment from the beginning. As far as I'm concerned, Keiko was never a release candidate. He was caught in the middle of a Hollywood movie.'
– Greg Bossart, Harbor Branch Oceanographic Institution & Miami Seaquarium
'We extended not only the length of his life, but the quality of his life. He was swimming tight circles in a small pool with papilloma all over him, and by the time we finished with him, he was out with the big boys, swimming around with wild whales in the ocean.'
– (David Phillips, Free Willy-Keiko Foundation)
---