Joshua Records LLC Presents A Documentary by Theresa Demarest
Watch how Keiko, the orca star of the hit film Free Willy, became the first captive orca to be successfully returned to his ocean. From capture to stardom to rehabilitation, from seapen to daily outings with caretakers, experience how Keiko gained over 3000 lbs, mixed it up with wild orcas, and even exhibited physical signs of attempts to mate, all the while thriving in the waters of his birth.
(Running Time: 74 min)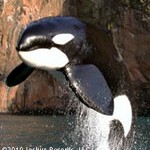 TAGLINE:
The millions of Keiko fans around the world finally learn the truth about what really happened when the "Free Willy" star became the first and only captive orca to be successfully released back into his home waters.
SHORT SYNOPSIS:
Nowhere in recent history has a captive mammal garnered go much attention as Keiko, the orca star of the 1993 hit film, "Free Willy." The film's success, partnered with growing public interest in animals held in captivity, launched a children's crusade that called for Keiko's release into the wild. The result: a multimillion dollar project that spanned four countries, weathered endless controversy that continues to this day. Through first-hand accounts by the marine mammal experts charged with his care, "Keiko The Untold Story" follows Keiko, his life, his legacy of hope, and the untold story of his extraordinary years in Iceland and Norway.
MEDIUM SYNOPSIS:
Torn from his family at the tender age of two, Keiko spent 14 years in captivity as a performing tourist attraction before Hollywood discovered him for the title role in the 1993
 blockbuster movie, "Free Willy." When his millions of new fans around the globe, most of them children, realized that Keiko was not free like his on screen character, a crusade was launched to save him. The decision was ultimately made to return Keiko to his native waters off Iceland. He first spent two years in Oregon regaining his health. Keiko was finally airlifted to Iceland in fall 1998, becoming the first and only orca in captivity to make it back to the wild.
Yet over a decade later, the question of whether or not the mission succeeded continues to frame the debate regarding the fate of the other 42 orcas still held in captivity around the world. "Keiko The Untold Story" solves the mystery of what really happened during the last five years in the life of this international icon.
Four years in the making, this compelling documentary by filmmaker Theresa Demarest presents never before seen footage of Keiko in the wild, along with exclusive accounts of his day-to-day existence by Keiko's last two caretakers, Colin Baird and Thorbjorg (Tobba) Valdis Kristjansdottir. The film provides insight into the unique culture of orcas, and what the impact of being taken from his pod had on Keiko's survival instincts.
READ THE LONG SYNOPSIS "THE UNTOLD STORY" HERE
---
'This was a failed and flawed experiment from the beginning. As far as I'm concerned, Keiko was never a release candidate. He was caught in the middle of a Hollywood movie.'
– Greg Bossart, Harbor Branch Oceanographic Institution & Miami Seaquarium
'We extended not only the length of his life, but the quality of his life. He was swimming tight circles in a small pool with papilloma all over him, and by the time we finished with him, he was out with the big boys, swimming around with wild whales in the ocean.'
– (David Phillips, Free Willy-Keiko Foundation)
THE CREW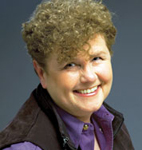 Theresa Demarest –Independent Film Maker/ Producer/ Musician
Theresa Demarest is an award-winning songwriter/producer/independent filmmaker for Joshua Records, LLC in Portland, Oregon. As producer/director of Keiko: The Untold Story, Theresa brings to life her deep connection to Keiko's story and allows the audience to pause and take a second look at Keiko's strong will to survive and to explore his enormous embrace of his own freedom. It is by pondering his behavior in such powerful footage that viewers can see things about Keiko that perhaps they never took the time to consider before, and to really look closely at what those directly involved with his circumstances were doing. As a filmmaker, Theresa is interested in translating to the audience the ways in which the effort to release a captive whale into the wild did succeed, as well as examine the questions left unexplored. www.theresacd.com and www.keikotheuntoldstory.com
---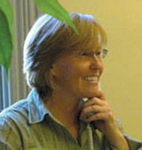 Nola Wilken –Executive Producer
Since founding Wilken & Company, P.C., CPAs in 1987, Nola has attracted a diverse group of clients who rely on her for estate and tax planning, consulting, and financial reporting. People come to Wilken & Company because they've heard about Nola's unmatched professionalism and knowledge of accounting. They remain loyal because she is available, approachable, and responsive. Through her work as an accountant and as a community volunteer, Nola has demonstrated that social responsibility can be  compatible with financial security. Nola's recent volunteer leadership includes serving on the Tri-Met Citizens Advisory Committee, the board of Open Meadow Alternative Schools, the advisory board for the North by Northeast Health Clinic, as a partner of Social Venture Partners Portland, and in many other volunteer capacities. Prior to founding Wilken & Company, Nola worked as a staff accountant at Angel, Crouse & Co., CPAs in Portland. She received her Bachelor of Science in Business Administration/ Accounting from Portland State University. She is licensed to practice in Oregon and Washington.
---
Jay Schornstein– Executive Producer
Jay lists working on "Keiko The Untold Story" with Theresa Demarest as one of his most satisfying projects to date. Jay has worked with Theresa since the film's inception. Besides this film project, Jay worked with Global Village, and its founder John Reilly, on the documentary, "Waiting For Beckett", winner of the National Educational Film and Video Festival Golden Apple Award, and Silver Hugo Award at INTERCOM '94, a part of the Chicago Film Festival, and with Rudi Stern and Crowing Rooster Productions on "Haiti: Killing The Dream." Jay earned a Bachelor of Science degree from Ithaca College and a Juris Doctor degree from Lewis & Clark Law School and is admitted to the bars in Pennsylvania, New York, Oregon, and Washington. Jay has a general law practice with an emphasis on intellectual property matters and entertainment law in Portland, Oregon.
---
Stacy Dymalski – Associate Producer
A freelance director/producer, Stacy has produced, directed and written TV commercials and Internet video ads, as well as directed and produced industrial films and commercials for clients such as IBM, Make-A-Wish Foundation, Acme Threadware, Courseware, and various political candidates.Stacy has also written two books, co-wrote and directed the dark comedy feature film, "Jupiter Landing" (2005), and has also  written and directed several shorts, most notably "The Write Stuff." Alone and with her writing partner (Zack Van Eyck) Stacy has written over a dozen feature screenplays, and together they've won over 25 screen writing contest awards. For 10 years Stacy wrote and performed a weekly movie review show on KPCW radio entitled "The Friday Film Review." She is also creator and head writer of the comedy series "Hagnet" on YouTube, and "Funny or Die".
Currently Stacy writes a weekly humorous blog for www.parentainment.com called "Mom-orabilia," where she uses her comedy chops to share funny parenting stories in the same vein as Erma Bombeck and Jill Connor Browne.
---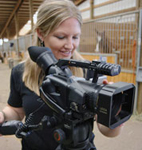 Julie Murray – Director of Photography (Interviews)
Julie Murray is a video journalist based in Portland, Oregon.  She has worked for ABC affiliates across the country shooting local news.  She  has numerous Associated Press awards, as well as, runner up Regional Photographer of the Year by the National Press Photographers Association.  Julie also owns "Stable Hand Video," an equine video service.  This merges her two passions, horses and video.  She especially enjoys video projects that make the world a better place for animals.
---
Sigurður Grímsson – Director of  Photography for Tobba Interview
GRIMS FILM is a television and documentary film production-company in Reykjavik, Iceland, which has mainly been producing films and television items for German television stations, as well as providing ENG crews and production assistance for TV reporters visiting Iceland from all around the world. Working in this field for more than 20 years we have a long experience of filming in Iceland and an all-round inside knowledge of the Icelandic society. Both current affairs and cultural aspects have been our subjects. In GRIMS FILM we are speaking Icelandic, German, English and Danish. GRIMS FILM is owned and run by Angelika Andrees and Sigurður Grímsson, both educated in Germany .
---
Claire Demarest – Associate Producer, Still Photographer (Interviews)
Claire Demarest has over 15 years of experience in training, desktop publishing, and professional services for corporate and non-profit industries, including working at Microsoft for 5 years as a web conferencing manager, and an independent consultant focusing on desktop publishing and training, web site management, photography, and graphic design. Claire holds a BA in Social Work, has her certification in Equine Sports Massage, Reiki Healing, and works as a fiber art artist in Fort Collins, Colorado.
---
Kirsten Rayhawk – Assistant Editor

Kirsten Rayhawk has been a creative consultant on four films, including Joshua Records' previous release, "Herd of Two." Trained as a theatre professional, she worked for several years in the Portland/Vancouver area as a stage manager, designer, director, and audio describer.
Now a mother of four, she serves on the Board of Directors for a local charter school and advocates for sustainable living.
---
Brent Rogers – Audio Engineer
5.1 Surround Sound, Music Creation & Production.  As an engineer and producer, Brent Rogers brings ten years of original music creation to the forefront at RexPost.  Having worked on such projects as HDTV show "Driftstyle," or in a 5.1, full-length feature film for cinematic release such as "Trainmaster", his creative 360 sound field approach has made him a sought after studio/ audio artist. In 2003, Brent began sound mixing when he deployed microphones at the Arlene Schnitzer Concert Hall for the purpose of capturing natural reverberations in upper audio regions of the hall. The cables still hang today and Brent has released over 20 recordings from the Schnitzer to date. These recordings were mixed in the studio in 5.1 sound.
---
Chris Borges-Silva – Color Correction & Titles
Chris skillfully took the existing film and made final edits and enhancements of select film footage. Bringing light to aspects of the documentary, Borges- Silva also worked closely with the documentary's film Producer, Theresa Demarest, to create the end credit sequence and trailer.
SPECIAL THANKS
LARRY EELLS – Trailer Editing & Consulting
After graduating high school, Larry gained his experience working for Capital Records and Paramount Studios as a   floater in training, working on everything from major recording labels and feature films with "hands-on" experience, and in tandem with students back then like Francis Coppola and George Lucas.
In 1982 he built the first coop production studio, San Jose Studios, then in 1995 Monterey Bay Production Group MBPG.  From concept to final product and duplication and distribution ties, MBPG was a huge success!
In 1995 Larry formed First Light Productions www.firstlightproductions.com (formerly Asylum Productions and Digital Dailies), which specialized in short format Independent films, Trailers and Directors' Cuts.
During his time in Hollywood and to date, Larry is deeply involved with Stereoscopic "3D" film making and shot numerous titles mostly in the Music arena, two features and specialized ride theme work.
Larry moved to the Northwest in 2005 after over 30 years working in Silicon Valley, Los Angeles and New York in International Trade and Aerospace, this lead him into advertising and corporate communications, and he found his passion was in film, video and music.
With over 30 years of media creation and development, working with everyone from unknowns to "A" list players/directors/producers like Robert Altman, Michael Tolken, Oliver Stone, Taylor Hackford, Michael Crichton and the lists goes on, Larry's experience and ability to master most critical elements of total production over the years has proven he can make the most of every creative process and deliver end results that he, client's and associates alike bond and it does make all difference in the end result.  To be original, creative and push new opportunities and envelopes ever so changing, is always an exciting challenge!
---
MARY THOMAS – Voice over talent (Documentary Trailer)
Mary is thrilled to be able to share her passion for voice acting with Theresa's passion for Keiko's story! Coming from a background of theatre arts the transition to narrative was a natural one. She has done commercial voice over for NECA/ IBEW, Alpenrose Dairy, and McMenamin's Edgefield. She is also part of the award winning Willamette Radio Workshop. "The story of Keiko is both informative and an amazing journey, I am proud to be a part of it."
---
SHELLEY RAYHAWK
Keiko's story touches people.  His courage encourages, and his victory gives hope. When Theresa would come out to the barn and talk about her work on the film, as Theresa's friend, I became concerned with helping her communicate and stay grounded in the vision that I saw she had and that certainly I shared– the passion to reconnect people with that which is vital and true in themselves and in the world around them.
I would say it is the same thing that kept me so involved with her first film.  Keiko is a much bigger, more complex story, of course, but the goal is the same — to offer the people who watch it the chance to discover the deep aliveness and healing that comes when we move beyond "human say, earth do."  As Theresa says time and again, throwing her arms wide as we walk the fields here, "We are so lucky to be alive and breathing on this planet!"
Shelley Rayhawk was born in a small Oregon coastal community and grew up in an era when children spent most of their time playing outdoors.  She graduated from Caltech in Civil Engineering, raised five children, and currently owns and runs a boarding stable with her husband Joe, her off-track Thoroughbred, Chris, and her very opinionated pony, Whisper.